Hello my crafty peeps! Today I have a new mixed media canvas to share with you. I think I'm gonna call this one "Urban Angel" because the background feels urban to me. What do you think?
This is an 8x8 canvas that I started back in April with the Paper Wings Productions
April in Paris
&
March Mixed Media
kits. I transferred the clip of the lit
merry go round
onto the canvas but my background was to dark so it didn't show up very well. I tried to keep going but I got stuck and it ended up sitting on my self for the last few months. Then a couple of nights ago I decided it was time to finish it up!
I started out giving the background a nice blue wash with Liquitex soft body acrylic paint and then added some texture with the circle stencil from my
PWP April Mixed Media kit
.
Next I did that transfer I was telling you about. Since it didn't show up well I decided to add the heart.
This sweet little angel is from the
PWP March Mixed kit
and can also be purchased individually on the clip art sheet
here
.
So to finish it off, I decided to simply add some stencil work behind the heart, drips and splatters of white ink, some random stamping and outline the heart.
Sometimes you just have to walk away from a project or just let it sit for awhile to get a fresh perspective. This canvas turned out completely different from what I imagined but that's okay. To me art is a living thing that takes on it's own life and directs me on how to complete my project. All I do is stay open minded and go with the flow!!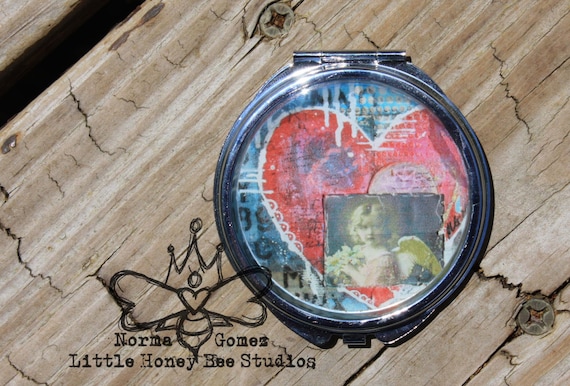 This canvas in also available is this beautiful little pocket mirror. You can pick one up in my Etsy shop:
Little Honey Bee Studio
.
Well thanks for joining me and have a WONDERFUL day!!!